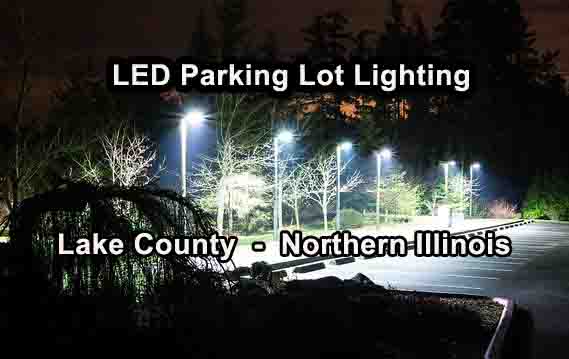 Parking Lot Lighting – Lake County Illinois – Buildings – Walkways – LED Conversions – Master Electricians – LED Conversions – Serving Northern Illinois Since 1982.
Parking Lot Lighting – Lake County Illinois – Buildings – Walkways
LED Parking Lot Lighting in Northern Illinois – Save big on electric bills and get brighter lighting that works better in colder climates. Master Electrical work since 1982.
If your facility was constructed more than ten years ago, chances are good that your outdoor parking security lighting is inadequate. For many years, lighting in parking lots and other outdoor areas was a low priority for lighting engineers. In many cases, the purpose of outdoor lighting was intended to enhance the architectural appearance of the facility rather than to provide adequate lighting for safety and security.
LED Parking Lot Lighting offers brighter lighting along with much more efficiency than any other type of outdoor lighting, saving you lots of money on your electric bill. 
Additionally, LED lighting offers much longer lamp life than metal halide, high and low pressure sodium, as well as older mercury vapor lights, so maintenance costs are vastly reduced.
Nu Glo can recommend ways to insure your outdoor lighting is operating at peak performance. Let us show you how to…
Maximize the output of your current outdoor lighting system.
Increase exterior light levels where and if needed.
Increase the efficiency of your outdoor lighting system – save money with LED Lighting
Improve nighttime sales, reduce theft and vandalism and increase safety for your customers and employees.
Parking Lot Lighting – Lake County Illinois – Nu Glo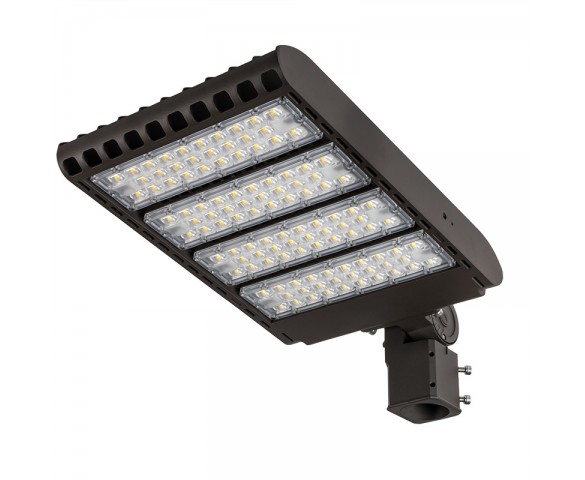 LED Parking lot lights, provide some excellent benefits for Parking and Outdoor Area applications because of how they GENERATE light and how they DISTRIBUTE light.
LEDs (Light Emitting Diodes) generate light via a semi-conductor, as opposed to the consumption of a "fuel source" as in HID lamps. In regards to "distributing" the light, LED parking lot fixtures commonly utilize "Multi-Point" sources, meaning the fixtures have multiple diodes with individual optics. When you compare this to the way most HID fixtures distribute light (with a single bulb and reflectors within the fixture), the result is light that is MUCH more evenly "distributed' across a surface.
LED Parking Lot Lighting in Northern Illinois – Nu Glo
ENERGY SAVINGS – Common wattages for LED parking lot lighting ranges from 40 Watts to 600 Watts, often resulting in a 40%-60% reduction in energy consumption, saving hundreds each and every year ON EACH FIXTURE.
REDUCED MAINTENANCE – LED Lamps can last for over 100,000 hours. significantly longer than that of an HID Lamp. LEDS drastically reduces the costs for maintaining a Parking and Area fixture over a much longer period of time.
INCREASED PERFORMANCE – Enjoy a more even foot candle distribution from your LED conversion. In addition to the even distribution of light, LEDs are available in a range of color temperatures, and as a result provide a range of options to increase the visual perception of "brightness."
And it's not just parking lots. Walkways, Roadways, Tennis Courts, and any outdoor area that needs lighting here in northern Illinois.
New Signs
Fast Sign Repair
LED Conversion Experts

Parking Lot Lighting

Full Service Sign Company
Serving Northern Illinois Businesses Since 1982 
Office 847-223-6160
Cell 847-417-2342