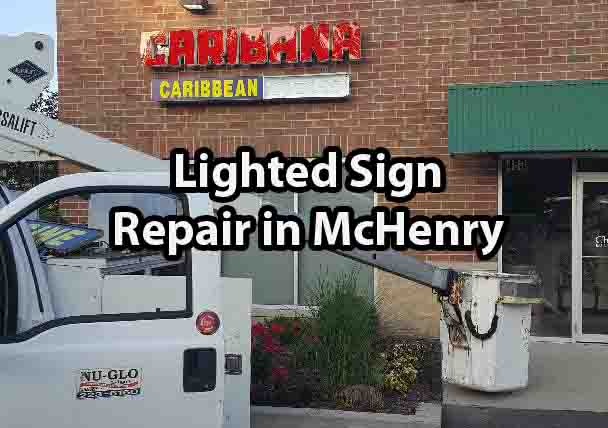 Business Sign Repair – Lakemoor and throughout McHenry County – Fast sign service – New signs and sign repair along with LED conversions that save money.
Business Sign Repair – Lakemoor IL
Lighted Sign Repair in Lakemoor and Throughout McHenry County – Nu Glo Signs – Family owned – Serving Northern Illinois since 1982.
Nu Glo Sign also repairs every kind of sign. From ballast problems to flickering neon, to storm and wind damage, Nu Glo is your first call for lighted sign repair in Lakemoor and all around McHenry County Illinois.
Electric sign repair can be dangerous when it is not handled by an experienced company. At Nu Glo Sign we specialize in lighted electric sign repair in McHenry County Illinois and surrounding areas.
Our experienced electric sign maintenance and repair technicians, makes us the go-to-name Northern Illinois trusts for electric sign repair for over 35 years.
Don't Let Your Business "Go Dark"
Mention You Saw This and Receive 10% Off Parts and Labor 
Call Nu Glo for fast sign service in McHenry County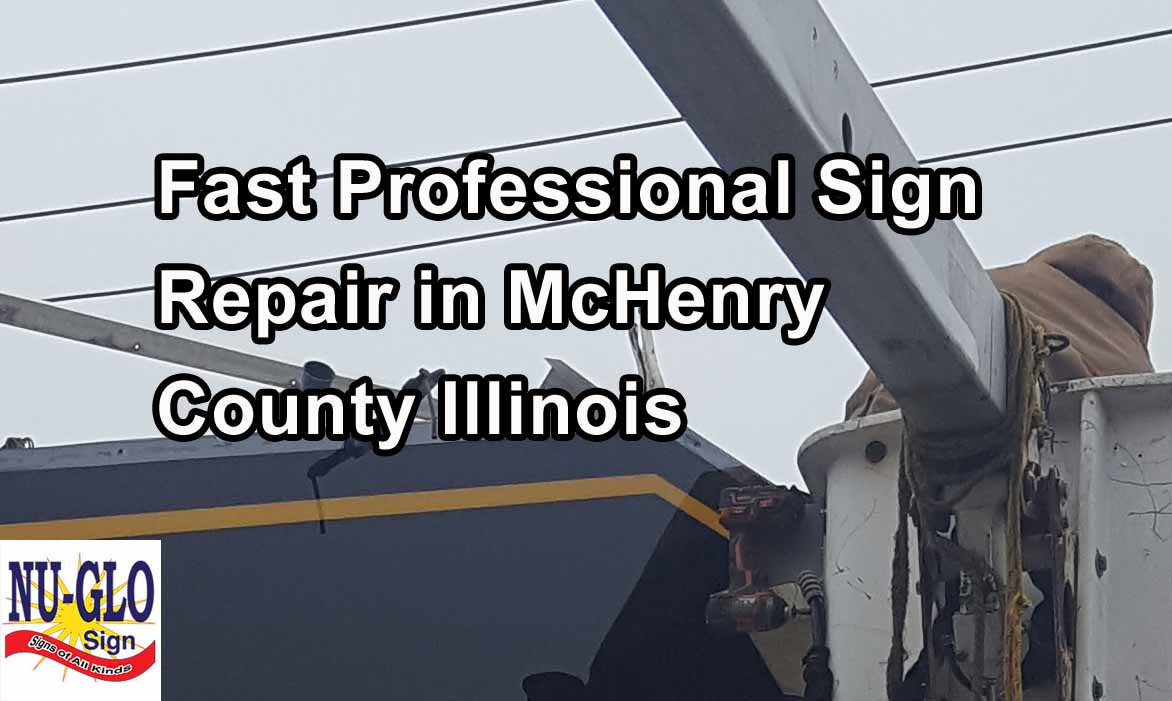 Manufacture/Fabrication All Sign Types
Full Sign Installation (including electrical hookup)
Sign Repair and Maintenance
2 Bucket Trucks
Maintenance Contracts
Why Choose Nu Glo Signs?
Free Estimates
Honest, Upfront Pricing
Fully Licensed, Bonded, and Insured
Expert Sign Advice and Solutions for Over 35 Years
Prompt Turn Around Times
At Nu Glo, our staff understands the need to maximize your visibility and lasting presence in the marketplace. Whether incorporating LED, fluorescent, neon, dimensional components or digital images, our signs are built to your needs.
And if you need fast sign repair in McHenry County and the surrounding area, contact Nu Glo.
As with any type of electrically lit equipment, the lighting eventually burns out. And when that happens our sign technicians are able to quickly find the source of the problem and replace the expired parts. We carry a large selection of replacement parts on hand, limiting any wait for ordering. Our sign repair technicians also drive full-stocked trucks with a bucket for reaching over 100 ft. That is why we are able to handle your electric sign repair in McHenry County quickly. We guarantee our work and use only the best parts from top manufacturers.
We also offer parking lot lighting! Call for details.
Office 847-223-6160
Cell 847-417-2342