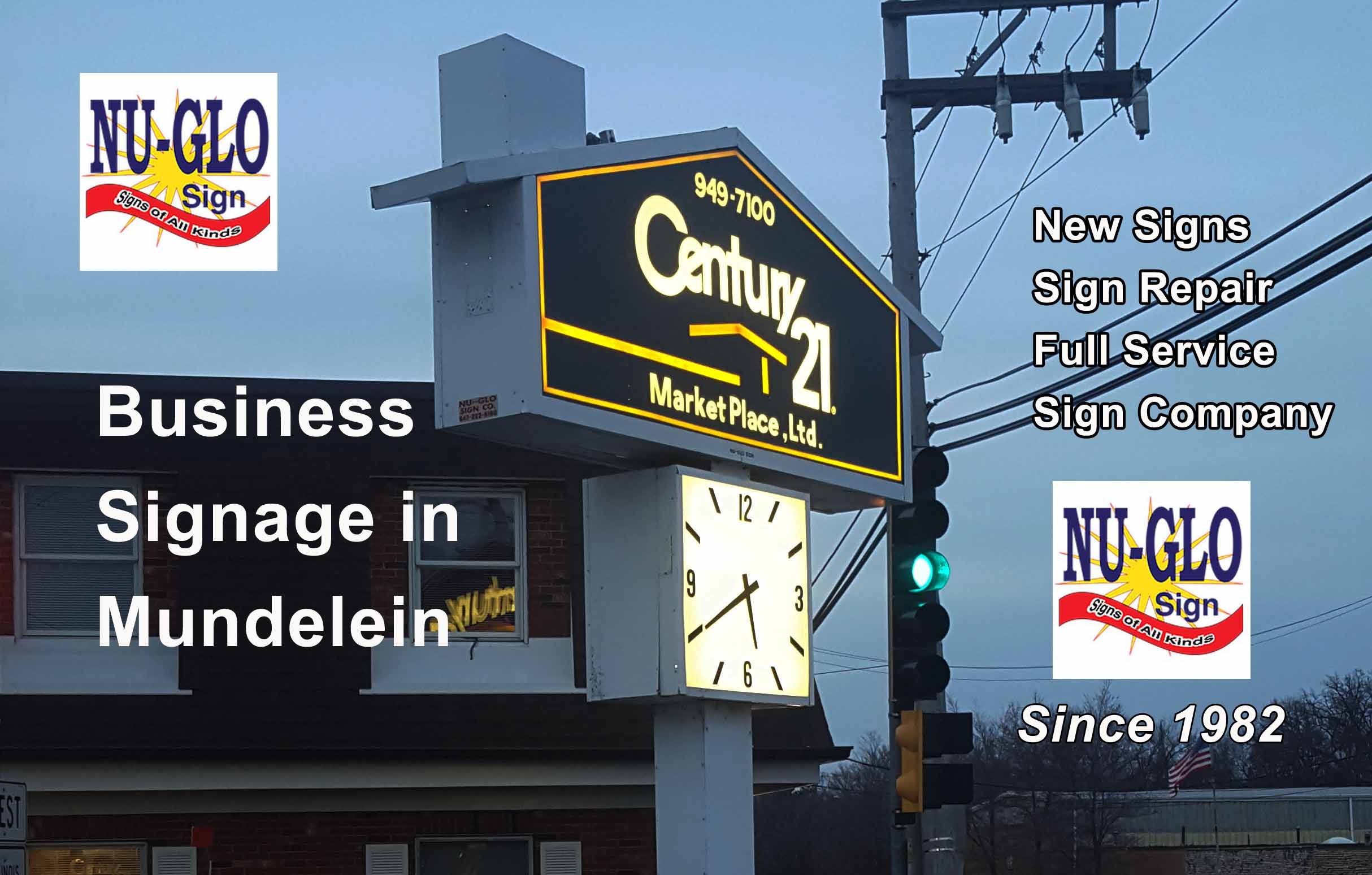 Business Signage in Mundelein Illinois – The best looking, most affordable business signs in and around Mundelein originate at Nu Glo. Almost 4 decades of experience.
Business Signage in Mundelein Illinois
Here at Nu-Glo Sign, we have been helping businesses succeed through exceptional signage since 1982. And you have probably seen our work. 
Looking for a sign company or do you want a business partner who can handle all of your signage needs?
Nu Glo handles every type of sign – interior, exterior, digital and more, along with fast sign repair– with the same outstanding professional service and results you are looking for at affordable prices (no franchise fees to pay). AND…unlike those franchised sign places, we DO NOT SUBCONTRACT THE INSTALL to a third party. WE DO ALL OUR OWN INSTALLS!!!
New Signs
Fast Sign Repair
Full Service Sign Company
Business Signage in Mundelein Illinois – New Signs/Sign Repair
Widely known for crafting and fabricating some of the very best signs in Lake County area, Nu Glo Sign also offers fast, affordable sign repair on any type of sign such as;
Channel letters
Lighted signage
Electronic signs
Pylon signs
Cabinet signs
Neon signs
Lightbox signs
Parking garage signs
Monument signs
Dimensional letters
LED signs
Building signs
Exterior signs
Menu boards
And more
FREE BANNER WITH ANY PURCHASE OF ELECTRIC SIGN OR FACE FOR SIGN
Business Signage in Mundelein Illinois – Fast Sign Repair
Sometimes, signs don't really die, they just fade away.
It might be damage caused by high winds, or ravaged by the sun. And channel letters, as with any type of electrically lit equipment, the lighting eventually burns out as well. And when that happens our sign technicians are able to quickly find the source of the problem and replace the expired parts.
We carry a large selection of replacement parts on hand, limiting any wait for ordering. Our sign repair technicians also drive fully-stocked trucks with a bucket to reach the high ones. That is why we are able to handle your electric/lighted sign repair here in Mundelein quickly. We guarantee our work and use only the best parts from top lighting manufacturers.
When you need fast, dependable sign service in Mundelein or anywhere in Lake County Illinois, call the professionals at Nu Glo Sign for quick, affordable service on any type of sign as well as expertly crafted new business signage in Mundelein.
With over 4 decades of experience and our own crew of licensed professionals, including our own Master Electrician, we have the knowledge needed to deliver the results you're looking for. Our quality workmanship work ensures that the job is done right the first time, every time.
Office 847-223-6160
Cell 847-417-2342