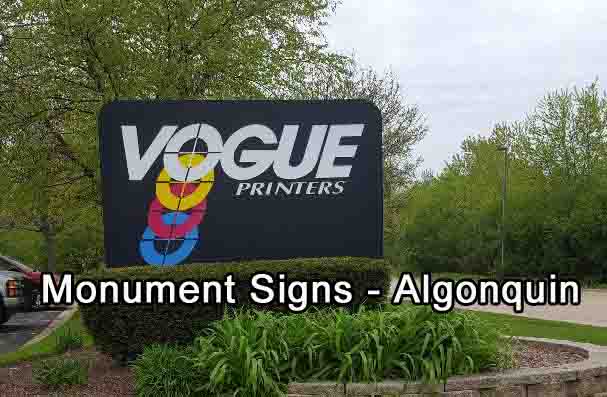 Monument Signs Algonquin and throughout McHenry County – Over 38 years of experience crafting and repairing business signs in northern Illinois.
Monument Signs Algonquin IL
Monument Signs – Algonquin and throughout McHenry County – Churches, Schools, Apartment Complexes, Neighborhoods, Funeral Homes, Professional Offices,  and more often use monument signs. Call the monument sign pros at Nu Glo.
Nu Glo fabricates and services all type of signs including the ever popular monument signage. For almost 40 years – Nu Glo Sign in Northern Illinois.
A monument sign is a permanent, exterior freestanding sign that is not affixed to a building.
This type of sign typically either sits directly on the ground or on a low base that makes the sign highly visible and easy to read from the street level. Monument signs are ideal for entries to buildings and businesses that sit farther back from the road, which can make standard exterior signs difficult to see.
Monument/ Architectural signs allow you to display the name of your building, the business tenants within a complex or other pertinent information in an attractive and functional manner. Nu Glo Sign helps your business or facility with all its exterior sign needs, including these popular monument sign options.
Reader Boards – If you have information that changes on a regular basis, LED message boards (reader boards) are a preferable solution. Another option available is the more traditional letter/ number based reader board.
Aluminum Panel Signs – These signs combine aluminum composite panels with HDU or acrylic lettering or logos held in place with concrete or stone. These signs are highly-visible and can be customized to meet any need.
Sandblasted Signs – In historic areas, or any space where achieving a classic look is a necessity, our sandblasted signs are a great choice.
Routed Panels – The routed panel is a highly versatile style of monument/ architectural sign. These can be routed to nearly any size or shape. If you can imagine it, we can fabricate it.
Whether you are in need of a new sign, or your sign needs some tender-loving repair, call the signage experts in McHenry County Illinois – Nu Glo.
Office 847-223-6160
Cell 847-417-2342