Channel Letter Signs – Round Lake Illinois – Nu Glo fabricates and installs channel letter signs as well as providing repair and LED upgrade services throughout Lake County.
Channel Letter Signs – Round Lake Illinois
Here at Nu Glo, we offer a variety of styles of custom channel letter signs for your business. Channel letters are three-dimensional, custom-made, letters that are often used as exterior signs for businesses on the front of their buildings.
Channel letters are a great option for signage for the face of your building. Our team of expert sign manufactures custom build every channel letter sign for our customers. We use only the highest quality materials in the construction of our signs. Nu Glo Sign also offers service, maintenance, re-wiring, and repair of channel letter signs – both signs we've built and existing channel letter signs built by other companies.
When Loven Oven was getting ready to open their biggest store yet here in Antioch, one of their first calls was to Nu Glo. They knew that the new LED signs were brighter in cold weather, used far less electricity, and worked especially well in channel letter signs.
They also knew the best sign sign company in Lake County Illinois is Nu Glo Sign.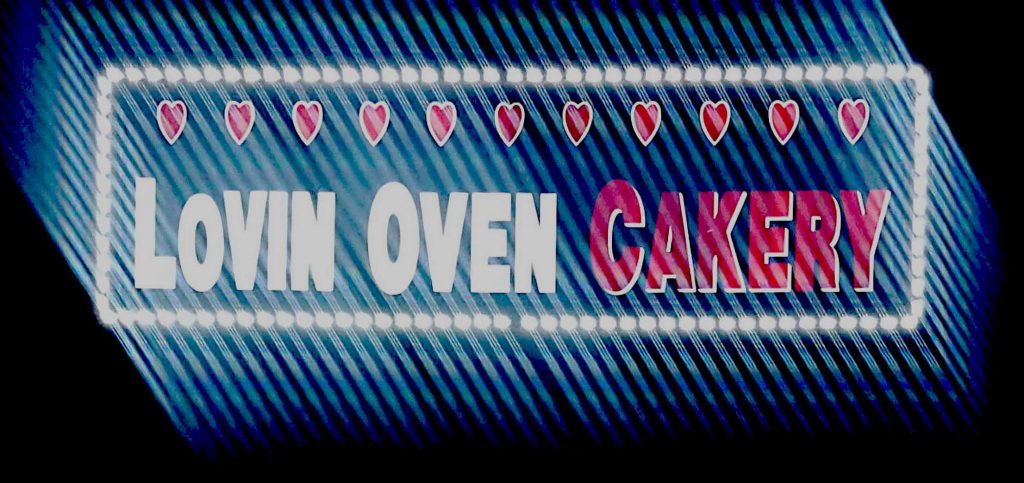 For years, neon was the undisputed way to illuminate a channel letter sign. Now business owners have a better choice – LED Lighting – that consumes far less energy and performs better in the cold weather months as well.
10 Reasons to Convert Your Sign to LED
Reduced energy costs by up to 90% over neon
Better Efficiency – LEDs are 50% to 70% more efficient than fluorescent bulbs
Longer Life – 50,000+ hours (Over a decade of night time use)
Fewer Service Calls
Reduced fire and shock hazards (much lower voltage)
Improved performance in cold weather (Important feature in Northern Illinois)
Mercury Free – Environmentally Safe
Higher Quality Lighting – No "Flickering" Issues
LEDs are Shatterproof
Adaptability – Colors, Halo Effects and More!
Channel Letters Signs – New Signs and Sign Repair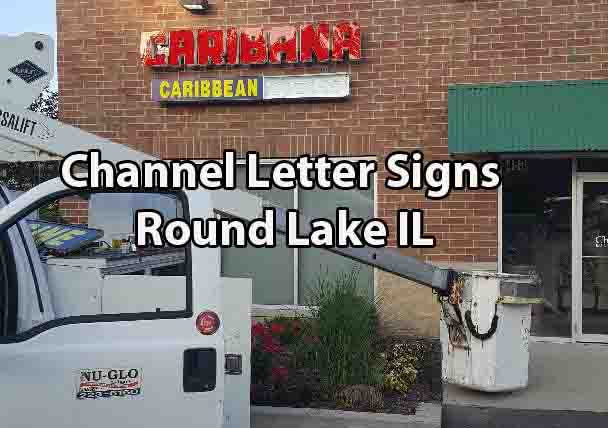 Widely known for crafting and fabricating some of the very best signs in Lake County area, Nu Glo Sign also offers fast, affordable sign repair on any type of sign such as;
Channel letters
Lighted signage
Electronic signs
Pylon signs
Cabinet signs
Neon signs
Lightbox signs
Parking garage signs
Monument signs
Dimensional letters
LED Signs
Building signs
Exterior signs
Menu boards
And more
Sign Service in Round Lake Illinois – NU GLO SIGN
Sometimes, signs don't really die, they just fade away.
It might be high winds, or ravaged by the sun. And channel letters, as with any type of electrically lit equipment, the lighting eventually burns out as well. And when that happens our sign technicians are able to quickly find the source of the problem and replace the expired parts.
We carry a large selection of replacement parts on hand, limiting any wait for ordering. Our sign repair technicians also drive fully-stocked trucks with a bucket to reach the high ones. That is why we are able to handle your electric/lighted sign repair here in Round Lake quickly. We guarantee our work and use only the best parts from top lighting manufacturers.
When you need fast, dependable sign service in Round Lake Illinois, call the professionals at Nu Glo Sign for quick, affordable service on any type of sign as well as expertly crafted new channel letter signs in Antioch.
With over 4 decades of experience and our own crew of licensed professionals, including our own Master Electrician, we have the knowledge needed to deliver the results you're looking for. Our quality workmanship work ensures that the job is done right the first time, every time.
Office 847-223-6160
Cell 847-417-2342