LED Sign Conversions – Kenosha County Wisconsin – Not only does LED lighting save you money on your electric bill, they are brighter, especially in colder weather.
LED Sign Conversions – Kenosha County Wisconsin
LED Sign Conversions in Kenosha County Wisconsin – LED Signs use less electricity, last longer and burn brighter in chilly weather.
Convert Today and Save!
10 Reasons to Convert Your Sign to LED
Reduced energy costs by up to 90% over neon
Better Efficiency – LEDs are 50% to 70% more efficient than fluorescent bulbs
Longer Life – 50,000+ hours (Over a decade of night time use)
Fewer Service Calls
Reduced fire and shock hazards (much lower voltage)
Improved performance in cold weather (Important feature in Wisconsin)
Mercury Free – Environmentally Safe
Higher Quality Lighting – No "Flickering" Issues
LEDs are Shatterproof
Adaptability – Colors, Halo Effects and More!
When most people think of LED signs, they think of moving message signs. But LED lighting is more flexible than florescent or neon and can be used to illuminate every type of sign including;
Channel Letters
Cabinet Signs
Pole Signs
Pylon Signs
Front Lit 
Light Box
Illuminated Pole Signs
Monument Signs
Panel Signs
Dimensional Lettering
and more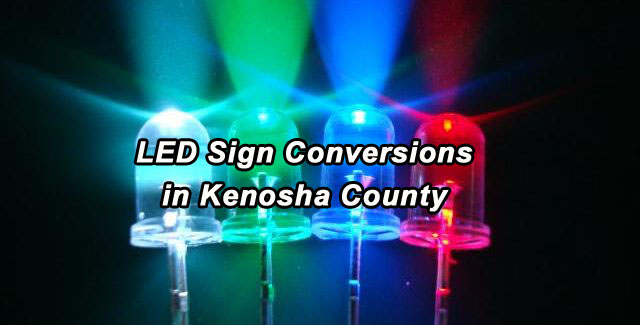 LED Sign Conversions in Kenosha County – LED back lighting saves up to 90% on energy costs over fluorescent or neon lighting, and requires less maintenance, primarily due to the low voltage requirements as well as the effective lighting life, saving you money not only on your lighting electric costs but down the road with maintenance as well.
Get a quote on your LED Sign Conversion in Southern Wisconsin today! 
Additionally, Nu Glo Signs also offers LED Conversions For Parking Lots
And in the case of parking lot lighting, the savings can average about $300 per year ON EACH LAMP!
It's not just Signs and Parking Lots. Nu Glo can light up Walkways, Roadways, Tennis Courts, and any outdoor area that needs lighting here in Kenosha County.
Proudly Serving Area Businesses Since 1982 
Office 847-223-6160
Cell 847-417-2342