Call Nu Glo Sign for the best pricing on monument signs in Waukegan. Monument, Channel, LED, Neon signs and more. New and repair. 40 years experience.
Monument Signs in Waukegan
With over 40 years of experience, Nu Glo has the know-how and the experienced personnel to create stylish and effective monument signs here in Waukegan illinois. From creating the very best monument signs, to maintaining and repairing, the first company to call is Nu Glo Sign.
Serving clients across the Northern Illinois/Southern Wisconsin area. and meeting the signage needs of customers of all types – we've made everything from school and education signs to business park entrances and more, and we're the only company to call if you need distinctive, effective monument signage to mark the entrance to, or the nearby location of your business.
Here at Nu Glo Sign, we have the capacity to manufacture, repair and service all types of signage including;
Monument Signs
Architectural Monument Signs
Pole Signs
Storefront Signs
Pylon Signs
Retail Signs
Event Signage
ADA Signs
Front-lit Channel Letter Signs
Reverse/Back Lit Channel Letter Signs
Electric Freestanding Signs
Aluminum Post & Panel Signs
Strip Mall Signs
Dimensional Plastic Lettering
Dimensional Metal Lettering
LED Boards
Illuminated Signs
Electric Cabinet Signs
Window Vinyl Lettering
Acrylic Signs
Neon Signs
LED Signs
Digital Signage
Directory Signs
Directional Signage
Blade Signs
Vinyl & Logos
And More…
Monument Signs in Waukegan – Nu Glo Sign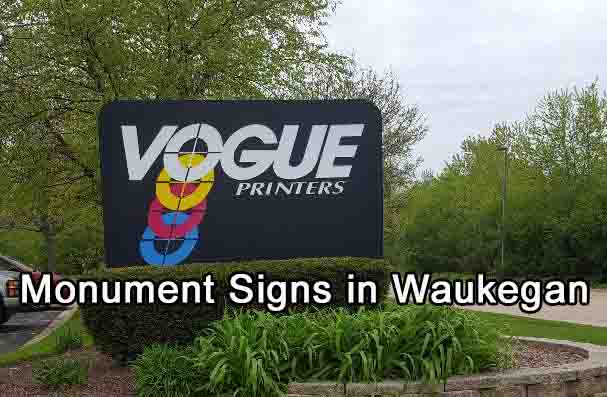 A monument sign is a permanent, exterior freestanding sign that is not affixed to a building. This type of sign either sits directly on the ground or on a low base that makes the sign both highly visible and easy to read from the street level. Monument signs are ideal for entries to buildings and businesses that sit farther back from the road, which can make standard exterior signs difficult to see.
Monument style signs are often used at schools, churches, funeral homes, property entrances, housing developments, hospitals and clinics, college campuses, community centers, apartment complexes, corporate centers, neighborhoods or anywhere you want to make a lasting statement. Monument signs come in all shapes, sizes, styles, and forms including digital.
HIGH QUALITY SIGNS – EXCEPTIONAL SIGN SERVICE AND REPAIR – DECADES OF KNOWLEDGE
Here at Nu-Glo Sign, we have been helping businesses succeed through exceptional signage since 1982.
FREE BANNER WITH ANY PURCHASE OF ELECTRIC SIGN OR FACE FOR SIGN
Office 847-223-6160
Cell 847-417-2342