Outdoor Signs – Spring Grove IL and throughout McHenry County – Serving Northern Illinois with the most eye-catching signage for less since 1982.
Outdoor Signs – Spring Grove IL
If you are a new business, or you are an established business with a sign that has seen better days, your first and only call is to Nu Glo – Northern Illinois's original family-owned sign company, providing cutting edge technology with old fashioned craftsmanship and very competitive pricing.
New Signs
Fast Sign Repair
LED Conversion Experts
Full Service Sign Company
Outdoor Signs – Spring Grove – New Signs
Family owned since 1982, we have more experience in crafting new signage and repairing existing signage than any other sign company in the Northern Illinois area!
LED
Channel Letters
Cabinet
Pole
Pylon Signs
Front Lit 
Back Lit
Light Box
Neon
Illuminated Pole Signs
Monument Signs
Electronic LED Messages
Panel Signs
Dimensional Lettering
Vinyl Banners
Installation/Repair/Maintenance
Nu Glo knows that visual appeal is an important part of the equation, but so are other factors, including your return on investment, longevity, sign safety and flexibility – meaning what if you have to change logo designs? Or your hours change? Nu Glo understands not only the sign business (for almost 40 years), but also what the sign means to your business.
Established in 1982, Nu Glo Signs is one of Northern Illinois oldest sign manufacturing, installation and repair companies. Nu Glo is a full service sign company. Our projects incorporate design, project management, fabrication and installation, as well as service and repair to all types of  business signage.
Why Choose Nu Glo Signs?
Free Estimates
Honest, Upfront Pricing
Fully Licensed, Bonded, and Insured
Expert Sign Advice and Solutions for Over 35 Years
Prompt Turn Around Times
Outdoor Signs – Spring Grove – Fast Sign Repair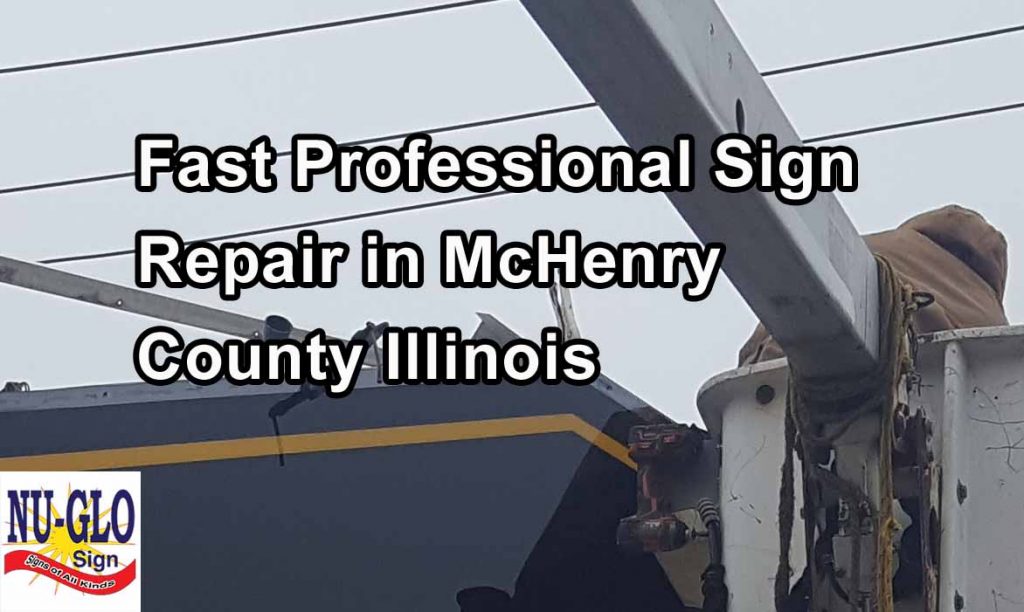 Widely known for sign design and in-house fabrication capabilities, Nu Glo Sign also repairs every kind of sign. From ballast problems to flickering neon, to storm and wind damage, or just old age, Nu Glo is your first call for lighted sign repair in and around McHenry County Illinois.
Electric sign repair can be dangerous when it is not handled by an experienced company. At Nu Glo Sign we specialize in lighted electric sign repair in Spring Grove and surrounding areas.
Our experienced electric sign maintenance and repair technicians, makes us the go-to-name Northern Illinois trusts for electric sign repair for over 35 years.
Outdoor Signs – Spring Grove – LED Conversions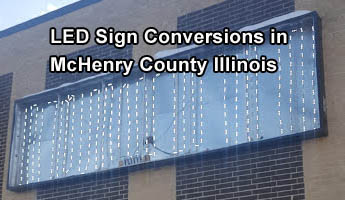 LED Sign Conversions in Spring Grove Illinois – LED Signs use much less electricity, last longer and burn brighter in chilly weather.
Whether you have a monument sign, channel letters, cabinet sign or virtually any other type of signage, chances are good it is lighted with either fluorescent lights or neon.  
Convert Today and Save!
10 Reasons to Convert Your Sign to LED
Reduced energy costs by up to 90% over neon
Better Efficiency – LEDs are 50% to 70% more efficient than fluorescent bulbs
Longer Life – 50,000+ hours (Over a decade of night time use)
Fewer Service Calls
Reduced fire and shock hazards (much lower voltage)
Improved performance in cold weather (Important feature in Northern Illinois)
Mercury Free – Environmentally Safe
Higher Quality Lighting – No "Flickering" Issues
LEDs are Shatterproof
Adaptability – Colors, Halo Effects and More!
Serving Northern Illinois Businesses Since 1982 
Office 847-223-6160
Cell 847-417-2342