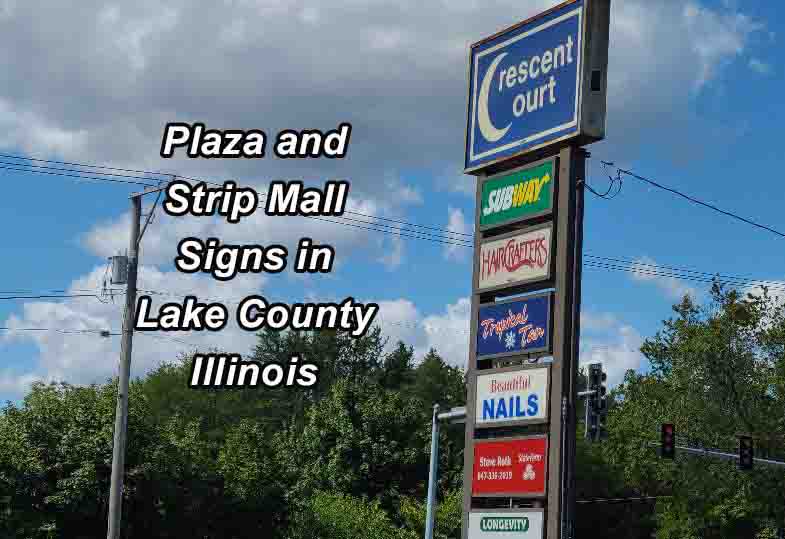 Plaza Signs – Lake County and throughout Northern Illinois – For nearly 4 decades, smart business owners choose Nu Glo for their business signage needs.
Plaza Signs – Lake County Illinois
Here at Nu Glo Signs, we offer an extraordinary plaza and strip mall signage service that is perfect for any business in Northern Illinois and Southern Wisconsin.
Shopping plaza and strip mall signs need to be eye-catching, vibrant and one of a kind. That's why we only create signage that will create a lasting memory in the minds of passing customers – no matter if it is located in a small plaza, large strip mall or a major shopping center.
Whether you are a new business or a long-established business, we can create signage that showcases what your brand is all about.
Alternatively, if you require a complete plaza and strip mall signage service, we can work with you to create several signs in the design that you want. We will also obtain all of the necessary permits to guarantee that the signs follow any and all local regulations.
All of the materials that we use will withstand any type of weather, ensuring that it doesn't fade in the sun or diminish with inclement weather our winter's bring us. We know that we can have varied climates throughout the seasons, so you need a sign that will be reliable – no matter what the time of year. Durable and hard-wearing, your signage can be enjoyed for many years to come and will instantly add value to your commercial space.
Call us. We are licensed and bonded and have been servicing the sign needs of businesses throughout northern Illinois and southern Wisconsin for nearly 4 decades. We also do our own sign installs. We do not subcontract sign installations like some other sign companies.
We also offer Parking Lot Lighting
Serving Northern Illinois and Southern Wisconsin Businesses Since 1982 
Office 847-223-6160
Cell 847-417-2342