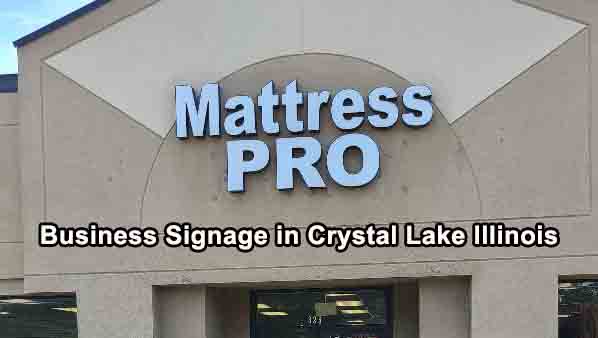 Business Signs – Crystal Lake – New signs and fast sign repair throughout McHenry County, Affordable signage for nearly 4 decades – Nu Glo Signs.
Business Signs – Crystal Lake IL
New Signs
Fast Sign Repair
LED Conversions
Full Service Sign Company
If you are in need of business sign service in McHenry County, contact the Commercial Signage Experts at Nu Glo Sign. From new business signs to event signage, fast sign service and repair, parking lot lighting and more, Nu Glo manufactures, installs and services all types of business signs including;
LED
Channel Letters
Cabinet Signs
Pole Signs
Pylon Signs
Front Lit 
Back Lit
Light Box
Neon
Illuminated Pole Signs
Monument Signs
Electronic LED Messages
School Signs
Panel Signs
Dimensional Lettering
Vinyl Banners
Installation/Repair/Maintenance
And we will beat any bids providing materials, types, sizes, shapes, structures & quality is the same apples & apples, oranges & oranges.
Sign Repair Service ln Crystal Lake
When you need fast, dependable sign repair in Crystal Lake Illinois, call the professionals at Nu Glo Signs for quick, affordable service on any type of sign.
With over 4 decades of experience and our own crew of licensed professionals, including our own Master Electrician, we have the knowledge needed to deliver the results you're looking for. Our quality workmanship work ensures that the job is done right the first time, every time.
LED Sign Conversions – McHenry County
LED lighting offer 3 great advantages over traditional neon or florescent lighting.
Longer Lifespan – Less Maintenance 
Brighter in Cold Weather
Up to 80% Less Electricity to Run
Convert Today and Save!
Parking Lot Lighting in McHenry County
Additionally, Nu Glo Signs also offers LED Conversions For Parking Lots
And in the case of parking lot lighting, the savings can average about $300 per year ON EACH LAMP!
It's not just Signs and Parking Lots. Nu Glo can light up Walkways, Roadways, Buildings, Tennis Courts, and any outdoor area that needs lighting here in northern Illinois.
Northern Illinois' Full-Service Sign Company – Since 1982 – Family Owned – Nu Glo
New Signs
Fast Sign Repair
LED Conversions
Full Service Sign Company
Office 847-223-6160
Cell 847-417-2342