Fast Affordable Sign Service in Waukegan and throughout Lake County Illinois – Custom designed new signs and fast professional sign repair – Family-owned and operated since 1982, servicing businesses in and around the northern Illinois and southern Wisconsin area.
Sign Service in Waukegan
Whether your business needs a new sign or fast sign repair, call the experts at Nu Glo Sign. With almost 4 decades of experience along with great pricing, Nu Glo is your best choice for professional sign service in Waukegan and throughout Lake County.
Fast, Professional Sign Service in Waukegan Illinois 
Fast Sign Repair
New Signs
Full Service Sign Company
From sign installation services to custom fabrication to sign face replacement and more, Nu Glo is uniquely equipped to professionally service the signage needs of businesses here in Lake County.
Here at Nu Glo Sign, we design, fabricate and install a wide variety of custom signs in Lake County for any industry or type of business. Our sign products are excellent advertising and communication tools that send strong marketing messages, accurately convey brand identities, and create memorable experiences.
Our decades of family-owned experience helps local businesses here in Lake County and throughout Northern Illinois and Southern Wisconsin with their indoor and outdoor signs of all types, custom banners and trade show displays, way-finding signs and  much more.
FREE BANNER WITH ANY PURCHASE OF ELECTRIC SIGN OR FACE FOR SIGN
Widely known for crafting and fabricating some of the very best signs in Northern Illinois and Southern Wisconsin, Nu Glo Sign also offers fast, affordable sign repair on any type of sign such as;
Channel letters
Lighted signage
Electronic signs
Pylon signs
Cabinet signs
Neon signs
Lightbox signs
Parking gaarage signs
Monument signs
Dimensional letters
LED Signs
Building signs
Exterior signs
Menu board
Interior signs
Parking lot lighting
And more
And we will beat any bids providing materials, types, sizes, shapes, structures & quality is the same apples & apples, oranges & oranges.
Sign Repair, Maintenance and Service in Waukegan – Nu Glo
Illuminated Sign Face Repair in Waukegan – Replacement Sign Faces – General Sign Repair
If your business signage has seen better days, it's time to call Nu Glo Sign. We have you covered with fast,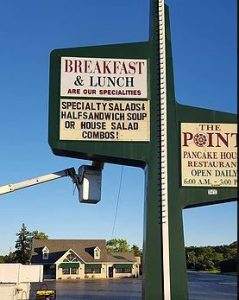 professional electric lighted sign repair and sign service in Waukegan and throughout Lake County and the Northern Illinois area.
No matter what type of sign your business has, at some point they'll require maintenance and repairs to keep them looking good and operating perfectly. Hiring a full-service electrical, sign and lighting company to inspect and service your signage can keep your repair expenses down. And at Nu Glo, we know everything there is to know about signs. Fast, affordable, professional electric sign  service and repair in Waukegan. That is why we are the preferred sign service company of choice for businesses here in Northern Illinois.
Whether you are in need of a new sign, or some tender-loving repair, call the signage experts in Lake County Illinois – Nu Glo.
Office 847-223-6160
Cell 847-417-2342
Custom Fabrication/Installation/Repair/Maintenance